.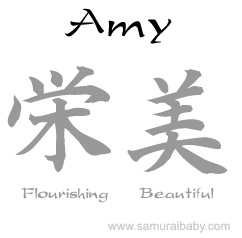 Kanji name meaning
A name is an important part of a person that will be carried with them always. While names may seem to be just names, most names have an interesting lineage or meaning associated with them. There are a variety of books and resources that explain the roots and origins of names
In Asian cultures like China and Japan, the meanings of names are more obvious as the names are not only phonetic, but also represented by characters with easily recognizable meanings (if you know Chinese or Japanese that is). Dating back to 1200 BC, Chinese characters spread to Korea, Vietnam and Japan. They are still used in China and Japan and their meaning as well as sound is an important factor when choosing a name.
While most Westerners wouldn't choose a Chinese or Japanese name for their child, it is fun to see what type of symbolic names can be made from a Western name. For example, the name Amy can be represented by the characters Flourishing and Beautiful, conjuring up the image of a dashing beauty.